Auburn FilterSense, Gasmet and NEO Monitors are experts in measurement technology for gases and dust
Publications - June 21, 2021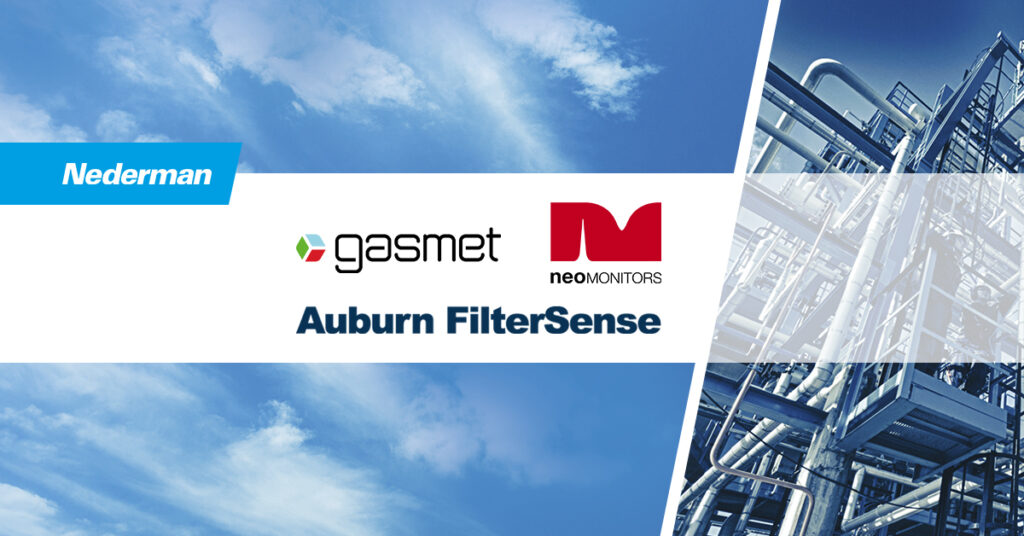 Nederman's Monitoring & Control Technology (MCT) division works with a broad spectrum of industries that need to continuously monitor and control their production, optimize processes, and reduce emissions. The three companies in this division are experts in advanced measurements technology for gases and dust.
Nederman offers clean air solutions that meet high expectations and changing needs, helping companies maximize production efficiency, improve work environments, and reduce environmental impact. NEO Monitors, Auburn FilterSense and Gasmet Technologies form the Monitoring & Control Technology division of Nederman.
The three companies share a mutual commitment to developing advanced gas and dust measurement technology to help customers meet legislative requirements while optimizing their processes for higher efficiency.
Auburn FilterSense – technology to both monitor and control particulate matter for higher process efficiency
Industrial plants have two main reasons to monitor and control particulates. Either the particulates are a waste from plant processes, and the plant needs to prevent it from escaping into the atmosphere as a pollutant. Or the particulates are the actual product of the plant, and the plant wants to measure it to know how much product, and essentially money, they are losing. Either way, the plants need to monitor and control the particulates.
"Our technology is a dust monitoring technology but also a process control tool. We can provide not only the monitoring of dust but the monitoring of other parameters all around a baghouse and then controlling the baghouse to minimize the output of waste," explains John Gallucci, Director of Worldwide Sales at Auburn FilterSense, LLC.
Auburn FilterSense's suite of products all use the same technology, DynaCHARGE™. It is a unique variation on the widely used triboelectric measurement technology. The products can be used in many applications, such as power stations, steel plants, aluminum plants, the petrochemical industry, chemical plants, food, and pharmaceuticals.
"The technology is suitable for a large variety of applications as it is very rugged and highly accurate. Sometimes the levels of particulates are very low, just a few parts per million. Measuring these levels reliably is incredibly difficult, but that is what we do at Auburn FilterSense," Gallucci says.
As part of its "Clean Air" cornerstones, the Nederman Group has been developing a proprietary IoT platform, Nederman Insight. Insight allows 24/7 monitoring and control of the status of anlysers, the associated plant and pollution control equipment they monitor to ensure any plant, corporate, environmental reporting, status, management or safety standards are accessible by the relevant people anywhere on a smart device.
Gasmet – CEMS technology and gas analyzers for accurate and compliant emission monitoring
Continuous emission monitoring (CEM) and gas analysis are Gasmet's core business. All our R&D effort goes into perfecting these technologies to suit customer needs. For a variety of industrial plants, such as combustion plants and waste incinerators, Gasmet offers CEMS and other permanent systems, such as CMM for continuous mercury monitoring and GT90 Dioxin+ for the sampling of dioxins and furans, for monitoring plant emissions in compliance with legislation.
Gasmet's portable gas analyzers are used by research facilities, safety professionals, and universities, to name but a few.
The demand for emission measurements has only increased and the limit values tightened in recent years, and the trend will undoubtedly continue. Gasmet's expertise aims at futureproofing the customers' business through flexible equipment and deep knowledge in the changing operating environment.
"Our people have worked in the field for a long time and know the related legislation and upcoming changes. We can go through the customer's environmental permit and applicable sections in the legislation, and explain what they need to comply," says Sales Manager Andrew Dixon from Gasmet Technologies.
NEO Monitors – pioneer in TDLAS technology and in-situ gas analysis for the process industry
NEO Monitors specializes in measuring gases in-situ, i.e. directly in the process without sample extraction. The technology is called TDLAS (Tunable Diode Laser Absorption Spectroscopy). As a very robust and versatile technology, it can be used in a variety of industries and applications, the most typical being process control, emission monitoring and safety in the oil and gas, chemical, and metal industries.
"In all simplicity, the system is installed on a stack, and the transmitter shoots a laser across the process. On the other side, we have a receiver including a detector. We basically measure the laser intensity going in and coming out. By carefully choosing the wavelength of the laser, we can very accurately and selectively measure the concentration of the exact gas we want to measure, as every gas absorbs very specific wavelengths," explains Peter Geiser, CTO at NEO Monitors AS.
Being an in-situ technology with no consumables, the equipment is very low in operational costs. Each of our TDLAS analyzers can measure one or two gases at a time. By carefully selecting the lasers, we can provide analyzers for more than 40 different gases and combinations in total. This means that the system easily adapts to new applications or legislative requirements.
"We are pioneers in this technology, and we have a very dedicated, innovative, and experienced team. For example, we were the first ones using a laser-based Hydrogen sensor for in-situ applications. On the other hand, we are bringing in the next generation fresh from the university to provide new ideas and enthusiasm. That is a great foundation for innovation," Geiser says.
For more information …
Want to know more about us and our solutions?
Contact Auburn FilterSense at info@filtersense.com or visit their website www.filtersense.com
Contact Gasmet at contact@gasmet.fi or visit their website www.gasmet.com
Contact NEO Monitors at neosales@neomonitors.com or visit our website www.neomonitors.com
Clean air is a cornerstone of sustainable production – get to know Nederman